Contact Becky Gray
40 McDowell Ridge Rd.
Burnsville NC 28714
828-675-4998
The figurative sculptures of ceramist Becky Gray provide a quiet place where one may reflect upon the narrative possibilities of the human condition.
"The dichotomy within man mimics that of nature -- full of beauty on one hand and destruction on the other," notes Gray. "In my work, however, I endeavor to convey the inherent goodness within mankind, whether quietly masked or direct."
Gray's works are hand built; she uses thrown forms, extrusions, coils and slabs combined in different ways to create pieces that are sculptural and often ceremonial in nature. Her works are raku-fired with light reduction, generally sprayed with water and then put into hardwood sawdust to cool. The result is an aged, often stone-like or metallic appearance.
Gray received a BFA in Art and a BA in English from Meredith College in Raleigh, North Carolina. Gray also attended Auburn University, the University of North Carolina at Chapel Hill, and Penland School of Crafts.
Exhibitions include the Visual Arts Center, NC State University; Farmington Valley Arts Center (CT); Flagler Museum (FL); Charles Allis Museum (WI); William Breman Jewish Heritage Museum (GA); and Asheville Art Museum (NC). Gray's work was also selected by the Southern Arts Federation for their traveling exhibition, "Contemporary Crafts."
Collections include R.J. Reynolds Industries Collection (NC), The Lannan Foundation (FL), North Carolina Pottery Center and North Carolina Museum of History.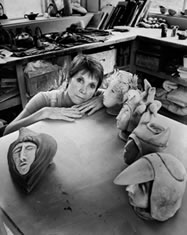 Photo by: Jonathan Hillyer
Galleries
Crimson Laurel Gallery
Blue Spiral 1
River Gallery
Toe River Arts
Piedmont Craftsmen
New Morning Gallery
NC Crafts Gallery
Cedar Creek Gallery
Upcoming Events
9th Annual Potters Market Invitational
September 7
Click here for more info.
Spruce Pine Potters Market
October 12 and 13
Click here for more info.
Résumé
Click here to download a complete résumé.